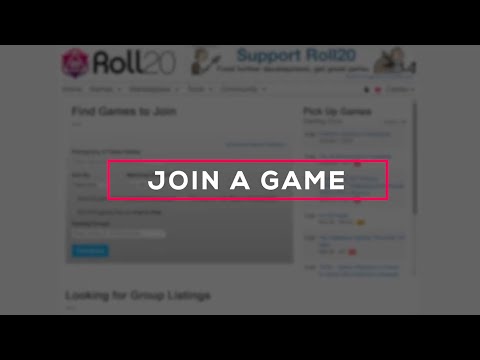 Are you looking to join a scheduled game on Roll20? Learn how to search through games in the Roll20 Looking for Group system, whether you're new to the virtual tabletop, new to the game system, or a seasoned pro of either.
Looking for more tutorial resources or help?
Roll20 Crash Course: http://roll20.io/CrashCourseA
Getting Started for Players: http://roll20.io/GS-Players
Submit a Help Request: http://roll20.io/helpme
Join Roll20 in supporting Code2040 through Tiltify: http://roll20.io/Tiltify-Code2040
Roll20.net is the easy-to-use virtual tabletop that brings pen and paper gaming to the web the right way. Built on a powerful platform of tools, yet elegantly simple, it focuses on enhancing what makes tabletop gaming great: storytelling and camaraderie.
Create your FREE account today!